Lawn Care Irrigation Services in Anne Arundel County
Lawn irrigation is one of the most commonly used irrigation services in Maryland. With the right system, you can conserve water and reduce your utility bills by taking advantage of your irrigation or sprinkler system's program capabilities to evenly and accurately distribute water across your property.
It's time to upgrade your irrigation system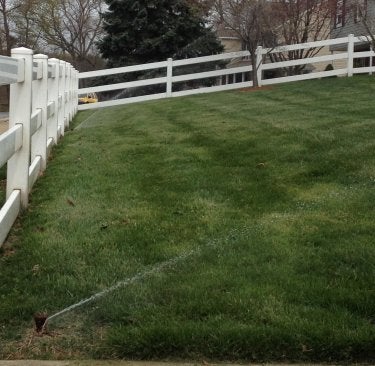 When it comes to keeping your lawn green, there is a fine line between smart use of water and wasting this precious resource. Outdated or damaged lawn care irrigation systems not only waste water, but also increase your monthly utility bills.
At Arundel Irrigation, we have more than 25 years of experience in irrigation systems of all kinds and can work with you to improve the efficiency of your system in an affordable manner that makes sense for you. Our landscape team works with you personally to custom-design the perfect irrigation system for your particular landscape and preferences. You deserve a new lawn care system that will save you both time and money. Let us help you get it. We install home irrigation systems and provide commercial irrigation services.
If your front or back yard is lacking a proper irrigation system, then it's time to install one that will ensure your lawn and garden are always looking beautiful.
Commercial irrigation services
Stop watering your lawn by hand and spend more time where it matters. We can install a custom landscape irrigation system tailored to your commercial property, no matter how big, small, or oddly shaped.
The importance of regular maintenance
It's not enough to install an excellent irrigation system. Without proper routine maintenance, you risk allowing your irrigation investment to go to waste. We can help you ensure that your irrigation system is ready for the changing seasons while also checking that all your pipes, timers, and other assets are working just as they should.
Don't forget to winterize your current irrigation system

We all know just how brutal winters in Maryland can be. That's why if you're going to invest in an irrigation system, you must be sure to have it annually inspected and winterized. Just like the pipes in your home or commercial building, the pipes for your irrigation system are at risk of freezing if left untreated.
When you hire Arundel Irrigation to prep your irrigation for winter, we will:
Insulate your main shut-off valve and any piping, valves, and backflow preventers above ground.
Turn off your automatic system without losing your programmed run times.
Remove wires connecting your controller to the master valve to avoid accidental activation.
Drain your pipes and sprinklers to avoid frozen and expanded pipes.
The cutting edge of lawn care
Since we started our business in 1993, we've provided Maryland residents with affordable, high-quality products and services to take proper care of their landscapes. Each technician at Arundel Irrigation is certified and expertly trained to provide you with reliable lawn irrigation services. By utilizing our superior service, you can promote your property's beauty without the hassle.
What Sets Us Apart?
Certified Technicians
Professional & Reliable
Locally Owned & Operated
Affordable Quality Products
Over 15 Years of Experience